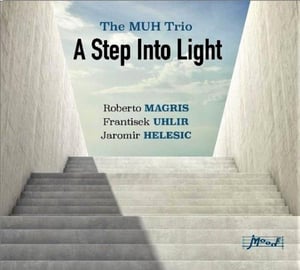 $

14.00
One of the most vibrantly alive bodies of work in modern jazz has been that created by Roberto Magris on JMood Records. I think of this glorious new album, the MUH Trio's A STEP INTO LIGHT, as a companion piece to one of my very favorite recordings of recent vintage, the trio's PRAGUE AFTER DARK. With Frantisek Uhlir (b. 1950), on acoustic bass; Jaromir Helesic (b. 1947), on drums; and Magris (b. 1959), on piano, the MUH Trio has created a 73 minute listening journey filled with beauty, rhythm, and soul.
Says the esteemed jazz critic Brian Morton: "[Magris possesses] a rhythmic sense that strongly recalls Monk, but an approach to harmony that covers the waterfront from McCoy Tyner to Andrew Hill."
I find that I deeply dig Roberto Magris because of his open mind--and his open heart. His music is not afraid to burst beyond barriers—check out his masterwork ALIENS IN A BEBOP PLANET--yet always with a warm humanity lighting the listener's way.
Frantisek Uhlir is another in a distinguished line of Czech bass players. However, unlike George Mraz and Miroslav Vitous, Uhlir has remained based in Europe and his virtuoso style absolutely deserves wider recognition in the United States. A deeply swinging accompanist, his solos on this album tell fascinating stories of their own.
Jaromir Helesic's exquisite concept behind the kit is a marvel. (Is there something in the Czech air to produce so many gifted jazz musicians?) Just listen to his artistry on every single song; Helesic possesses that rare Big Sid-like gift to tailor his sound and beat to every shifting moment.
As I listen again (and addictively again) to A STEP INTO LIGHT I'm taken by its variety of moods. Magris' original compositions—"A Step Into Light," "Continued Light," "Italy," and "Here We Are"—enchant with their sweep and "sound of surprise." Frantisek Uhlir, who also produced this gorgeously sonorous recording, contributes the wonderful "Waltz for Sonny," "Giulio," and "Bosa Cosa." Along with a gorgeous "Lush Life" and a lively dollop of Cole Porter, the trio gets down and funky with its own "Our Blues," completely improvised on the spot. This is an album that will no doubt find a nestling home in your cd player.
Says jazz impresario and JMood owner Paul Collins: "When the MUH Trio recorded PRAGUE AFTER DARK in 2016, they were at the very beginning of the journey. Since then, they have continued to grow musically to play more than 100 concerts in many different parts of Central Europe. They have emerged into one of the most renowned and appreciated jazz trios in Central Europe, and they are gaining traction in the USA. It is a pleasure to have them as artists, musicians, and friends of the JMood team."
It's easy to hear why the MUH Trio is so beloved: These musicians swing with power, grace--and a certain sense of mystery. Yes, this is jazz at its very finest—yet jazz filtered through a European lense: an Italian born pianist and two Czech musicians bringing an old world sensibility to a music forged in New Orleans. Close your eyes and listen to "Italy"—Uhlir dancing and darting with his dark woody tone; Helesic a fountain of ceaseless creativity; Magris playing lovely waves of sound. You can practically see the sunlight flickering off the waters of Lake Como. The MUH Trio truly breathes as one.
And just wait until you hear their version of "The Meaning Of The Blues"!
In a world filled with so much needless conflict, this is an album filled with the power of love—love of life, love of art, love of music.
Allow the MUH Trio and A STEP INTO LIGHT to brighten your life.
--Mick Carlon (Carlon's jazz novels—RIDING ON DUKE'S TRAIN; TRAVELS WITH LOUIS; and GIRL SINGER (Leapfrog Press)--are in the curriculum of over 100 schools in the USA, France, Spain, and Mexico. "Carlon's books are creating a new generation of jazz lovers," said the late Nat Hentoff).