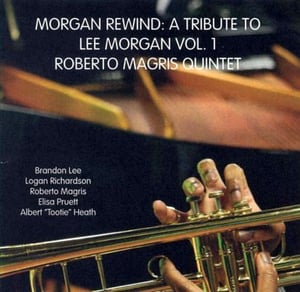 $

14.00
Roberto Magris and JMood™ Records has put together another "hot" unit which includes the drum legend Albert "Tootie" Heath of the legendary Heath Brothers, Elisa Pruett, Logan Richardson and Brandon Lee.
Although Lee Morgan wrote the majority of the songs that appear on this project, Roberto Magris continues to add value to these jazz recordings by his track selections, arrangements and original compositions in the style of Lee Morgan during this outing.
These tracks truly showcase the genius of a trumpet legend who left the musical world much too soon, but, not without leaving us much material to enjoy and interpret for the next generation of jazz listeners.
With a combination of various artists on his musical pallet, Roberto is able to paint a beautiful musical portrait of the music of Lee Morgan. On trumpet for this project, Brandon Lee, a jazz professor at the prestigious Julliard School of Music plays Lee Morgan. He does a graceful job filling the shoes of this musical giant. Even accomplished musicians quickly notice the brilliant skill in which Lee Morgan approached his musical compositions. Logan Richardson, alto sax, is a native of Kansas City who now resides and thrives in the NYC music scene. Logan provides a supple attack, tone and clarity of ideas to his expressions of Mr. Morgan's music and leaves the listener satisfied with his technique and style.
Elisa Pruett, on acoustic bass, has recorded twice for JMood™ Records with other planned releases. It is no wonder the listener can fall in love with this instrument. In an alpha dominated jazz business, Elisa has finessed her way with solid technique and approach to each musical project like a cluster of grapes on a vine and has gained the respect of the jazz legends JMood™ Records has put her in front of along the way.
The bass chair was vacated untimely by the jazz acoustic bass legend Dr.Art Davis 3 weeks after performing and recording "Kansas City Outbound" in Kansas City, Missouri.
Dr. Art befriended the young upshot entrepreneur Paul Collins and artist Roberto Magris and a friendship quickly developed. Dr. Art wanted very much to contribute in a large way towards new projects for PCAMI* but was not able to hear the final master due to his untimely death. However, called Collins the week before he died and emailed the day he died inquiring if the project had returned from the master and preparing Collins for what would be the worst blow since losing his father in 1976.
Dr. Art very much wanted to be a part of the Roberto Magris Quintet going forward. Collins had talked on the phone often and visited Dr. Art several times in California and had inquired of the master who would be a great trumpeter to follow. Dr. Art suggested Lee Morgan. "He had a pattern of working with up and coming artists over the years and his work with McCoy Tyner, Bob Dylan, Freddie Hubbard, Hasaan and Lee Morgan are no exception", says jazz impresario Paul Collins. Dr. Art Davis was recorded on the very first Lee Morgan recording as leader entitled "Expoobident". So, the seed was planted for this concept album and connection to this historic project.
Since then, Elisa has filled this void in the rhythm section in real earnest. First performing and recording with Idris Muhammad on "Mating Call" and now with Albert "Tootie' Heath on "Morgan Rewind". Both jazz masters fell in love with Elisa and a special chemistry developed between acoustic bass and drums. There is also a trio recording with Elisa in the JMood™ Records' catalog planned for future release.
Speaking of Albert "Tootie" Heath, what more can be said of someone who has played with everyone on the jazz planet! Coming from one of the first families of jazz, The Heath Brothers (the late Percy and older brother and prolific composer Jimmy Heath) have played with everyone of any significance in jazz. This project is no exception.
"Tootie" Heath and Lee Morgan lived in the same town and in the same general proximity. "Tootie" played with Lee a number of times in Philadelphia and in other parts of the country and there is a recording that survives this relationship entitled "Young Lions" with Wayne Shorter, Bobby Timmons, Bob Cranshaw, Louis Hayes and Frank Strozier. Albert Heath takes us back to the source of music from Lee Morgan as he joins the group for this project and also leaves an animated audio interview for us to enjoy.
This leads us to the band leader, arranger and composer Roberto Magris on acoustic piano from Trieste, Italy.
Roberto is the first to tell you he is not trying to take over this music left by the jazz masters and others mentioned previously. However, Roberto is certainly a musical force to be reckoned with and explains the power that music has over hill, dale, mountains, rivers and oceans. With over 16 music projects under his belt and a veteran artist/producer for the historic former SoulNote/BlackSaint Records in Italy, Roberto teams up with his long time friend and agent Paul Collins of JMood™ Records. The two have a single musical vision with a dual approach; to provide the best in jazz music. With several titles on the international market and with critical acclaim, Roberto has done it again! He is living proof that good things do come to those who recognize those who have already left a musical legacy. As a result, maestro Magris can unleash his creative abilities uninhibited. Whether, paying respectful tribute to the jazz greats of the 20's and 30's or composing his own melodic and technically challenging originals and arrangements of jazz pianist's of the 40's, 50's, big band, Nu jazz or jazz funk, you can be certain of some of the best jazz on the planet! Look for other planned projects and releases from JMood™Records.
4.5 stars!!!