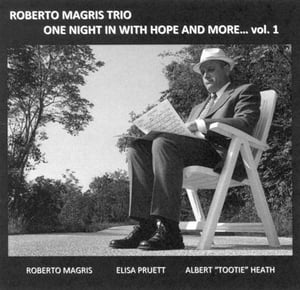 $

14.00
"One Night In With Hope and More Vol. 1" is another brilliant straight-ahead jazz recording project by international jazz recording artist Roberto Magris and producer Paul Collins of JMood Records.
This project is a sterling example of the dual vision, single purpose of artist and producer. The project revisits music from ivory giants of the 1940's and 50's. It features the compositions of Elmo Hope, Mal Waldron, Tadd Dameron and several others in addition to some original compositions in this piano style by the gifted jazz pianist and composer, Roberto Magris.
"Ivory giants cannot and will not be forgotten, even though at some point we want to be recognized for our contributions to this music," says jazz impresario Paul Collins. The project is important in the annals of jazz because it brings back to life the works of some of the greatest jazz piano innovators of our time. They are the DiVinci of jazz! These jazz pioneers are almost forgotten in today's idioms. These artists are credited, in their relatively short careers with innovation and perpetuating jazz to another level, in addition to inspiring the next generation of jazz artists."
Roberto Magris captures the essence of their relevance, elevates this music and pays homage along with some outstanding musical talent. Elisa Pruett, acoustic bass is a standout and mainstay of the JMood Record label having made her debut appearance on the highly acclaimed JMood Records CD "Mating Call" with Idris Muhammad and "Morgan Rewind: A Tribute To Lee Morgan Vol.1, with Albert "Tootie" Heath and filling the coveted seat after the loss of another JMood Records mainstay, Dr. Art Davis. Albert "Tootie" Heath, drums is a member of one of America's legendary jazz families and needs no lengthy introduction, period. Last, but not least, Roberto Magris, acoustic piano has performed in over 30 countries, has recorded over 16 CD's with several labels, one of which was Italy's legendary SoulNote/Black Saint Record. Magris has a number of highly acclaimed CD projects under the JMood Record label.
Roberto Magris, acoustic piano
Elisa Pruett, acoustic bass
Albert "Tootie" Heath, drums