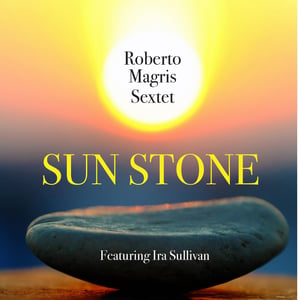 $

14.00
In February of 2016, international recording artist, pianist Roberto Magris made his concert and a live recording debut in Miami, Florida. Magris, and Paul Collins, owner and executive producer of JMood records, which has produced 15 of the pianist's albums, were so pleased with the outcome of that date that they decided to return for an encore performance except with some notable differences. This time, it would be a studio recording and a new cast of players every bit as seasoned and thrilling as the group with which he previously performed.
Sun Stone features a stellar group of first-call musicians that includes — living legend (born in 1931) and five-time Grammy nominee, Ira Sullivan on the alto, flute and soprano, Chicago icon Mark Colby on tenor, New York-based Miami native Shareef Clayton on trumpet and Florida International University professors and fixtures in the Miami jazz scene, bassist extraordinaire Jamie Ousley and Costa Rican drumming sensation, Rodolfo Zuniga.
While the first Miami album favored a slight Latin bent with the addition of percussion, Sun Stone delivers a highly energetic swinging program resulting in a distinctly different atmosphere. The music is rich and vibrant, full of choruses of solos from every member of the band — a standard element of every Magris recording attesting to this artist's unselfish attitude and behavior in his collaborations with fellow musicians.
While listening to the new compositions that Roberto brought to this second Miami session and to his inspired and energetic performance, it's easy to feel his deep personal commitment and his "body & soul" approach to jazz. But also the titles of his compositions "Sun Stone", "Planet of Love", "Look at the Stars" and "Beauty is Forever" are evocative of some "other places"… not to forget that some years ago Magris released a memorable double CD entitled "Aliens in a Bebop Planet." So, we could say that his musical vision includes a varied sort of cosmic love and musical energies, wrapped in a hard swinging package, including bebop, blues and some Coltrane reminiscences, but all in his own personal way.
The killer opening title track delivers a swinging rhythm in 3/4 time featuring Colby on an impressive tenor followed by a propulsive solo from Sullivan and bright moments from every member of the band. The swinging rendition of "Innamorati a Milano," a famous Italian pop song from the 60's, takes on a lighter texture and highlights the leader's appreciable talents on the piano on two solo choruses, with stylish horn play from Clayton.
The only jazz waltz of the set is the splendid "Planet of Love," featuring an exciting interchange between Colby, and Sullivan on the flute, followed by one of the finest solo moments on the piano from the leader. The medium Latin Reggae "Maliblues," comes to the fore with some spectacular solos from various members of the group. This new rendition of Magris' renowned composition "Maliblues," recorded many times in Europe for other projects but never recorded in the U.S. until now, could be considered a "definitive" version, just ready to become a hit and a jazz standard in the U.S., as well.

The ballad-like "Beauty is Forever," echoes an Ellington/Strayhorn atmosphere and is performed on quintet by Colby and Clayton, while Sullivan takes a break, and sets up the swinging "Look at the Stars," featuring Sullivan, who's back on soprano this time, and a mean trumpet burst from Clayton delivering a powerful exclamation point on the session. The second take of "Sun Stone" is the final statement of this burning session, with all the musicians delivering fire and passion until the end.
Sun Stone is pianist Roberto Magris' second Miami album with a new sextet featuring a powerful woodwind and trumpet combo supported by one of the finest rhythm sections in the business today. His music and his performance is once again memorable and outstanding, while this album represents the latest great addition to the discography of one of the finest piano players on the planet. Enjoy it!
- Edward Blanco, Producer/Host at WDNA, 88.9FM in Miami and Writer with All About Jazz